This is good free download !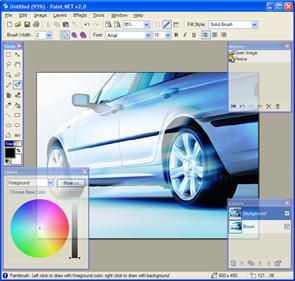 Students at Washington State University are collaborating with Microsoft to build free replacement for Paint, the quaint little image software that comes with Windows - and they're doing a good job.
The result - called Paint.NET - includes image layer editing , red-eye removal, and a history window of actions as you edit. An extremely improved version of plain old Windows XP Paint (which,, sucks), the only downside of Paint.NET is that it requires you install Microsoft's free but enormous .NET framework. Once that's over with, Paint.NET itself is a great free alternative to expensive image editing software for folks touching up digital photos. But its forWindows only you linux people will just have to stick with
the gimp
!!! That can also be used with windows.