Very Cool Mustek Personal Media Center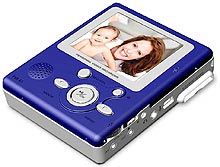 The Mustek PVR-A1 is a handheld device designed to give you a media fix when you're on the go. Use it to playback MP3 files, or to show off a slideshow of digital images thanks to the 2.5" TFT display. Its built-in memory of 32MB is easily increased with the addition of SD or MMC memory cards up to 512MB.
The PVR-A1 can also be used as a handheld digital VCR. Use it to capture MPEG4 videos of your favorite TV shows, and take them on the trip! MPEG4 compression rates allow for over an hour of full-motion video to be recorded on an optional 512MB card, making it easy to take along your favorite shows.
7-in-1 Personal Multi-functional Portable Device: Digital Video Player/Recorder, Digital Photo Player, Digital Voice Player/Recorder, MP3 Player, Mass Storage, SD/MMC Card Reader
Recommended Price: $139.99
CHECK OUT THE DETAILS HERE AT THIS LINK